PCEA EASTLEIGH CHURCH
PCEA Eastleigh Church spreads the Gospel of Jesus in line with the 'Holy Bible – The written word of God', a repentance based approach to the forgiveness of sin with a focus on teaching people to follow Christ. The Bible clearly states the role of Christian discipleship in a 5 folds ministry. It is within this context that PCEA EASTLEIGH CHURCH guided by the Holy Spirit of God, bestowed upon by Christ Jesus and God the Father boldly writes this vision, mission and values.
THE VISION FOR PCEA EASTLEIGH CHURCH is:
"A united Church touching people with love through Christ Jesus"
We want to see visionary, hopeful, and fruitful communities in every sense – spiritually, emotionally, socially and physically. It is also a vision that recognises and values every stage of life from pre-conception to eternity and every stage in between, for both men and women.
Healing takes place in the hearts of men thus PCEA EASTLEIGH CHURCH is not the centre but the source of healing through Christ Jesus.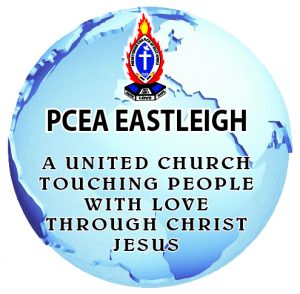 Our MISSION in PCEA Eastleigh Church is:
"Equipping the Church to minister effectively as one body of Christ" (EPHESIANS. 4:11-16)
We seek exceptional pastoral services that are within reach to everyone. This means paying attention to congregation, infrastructure and management structures, making sure they are fit for purpose. But providing effective ministering also presents the challenge of how to fund such services on an on-going basis – so we have to be committed to sustainability at the same time.
VALUES
Underlying the Vision and Mission are a set of values. These values shape the Vision and Mission and the way that PCEA Eastleigh Church carry out their responsibilities. They define the character of the Church, the people that work in it and the way that PCEA EASTLEIGH CHURCH will strive to relate to those with whom it has relations.
Vibrant– we seek to bring life to all we come in contact with
Holistic – we recognise that spiritual health is only one aspect of 'health' and seek wherever appropriate to address other aspects of people's lives
Integrity – working in a transparent and accountable manner
Dependable – we will be there when people need us
Interdependent – we will work with others through collaboration and partnerships
Community friendly – we will build up good relations and listen to those we serve
Professionally excellent – we will strive for excellence in all we do
Church Overview
PCEA Eastleigh Church has a 55 year history of serving the surrounding communities and outreaches with excellent pastoral care services. Over the last few years new opportunities have opened up and in 2014 the LCC took time to explore the future direction of PCEA Eastleigh church guided by the refreshed Vision of ' a united church touching people with Love through Christ Jesus '. This has been an exciting process of engaging with congregants, to dream of how the church should be seen doing today and in future and to plan how we get there. In our hearts we have seen our church rising from just a mere fellowship in the late fifties to a larger family that has expanded to many congregations with the last one being PCEA Pangani church
In our dreams we see a much more vibrant church that will be able to fill the current gaps wholesomely (physically, spiritually, economically and socially) by accomplishing the above stated Church Vision.